Hide your desktop from undesirable eyes!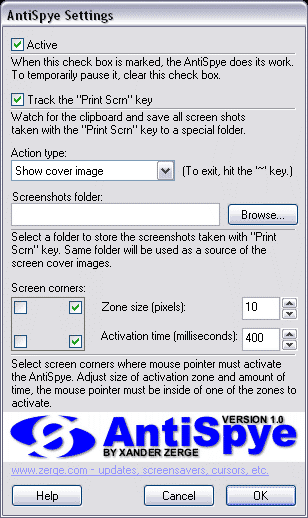 There are lot of software that fights against viruses and spy modules that are doing attacks to your PC from Internet. However, there are some times when spy can stand on your side of screen behind you.
Sometimes it is safe, but sometimes you can work with important information that you do not want to be seen by anyone.
AntiSpye is a simple utility helping you quickly hiding your screen from external eyes. No mouse clicks, no hard finger configurations to press simultaneous key combination. Just move the mouse pointer to one of the screen corners and viola! Your screen will be hidden with blank window, screensaver or with the screenshot that you could make earlier.
How to take screenshots? It is very easy – while you are working with something, press "Print Screen" key on your keyboard from time to time. AntiSpye tracks this, stores screenshots into special folder and uses them when time comes.
Features
Three types of action: blank screen, cover image, screensaver Move your mouse to one of the screen corner and AntiSpye will hide your desktop with black cover, default screensaver or with a screenshot with your previous work (you make these screenshots by yourself, so you will be able to choose images without sensitive information).
Built-in screenshot taking tracker Activate it and work as usual. To make screenshots, just hit the "Print Screen" key from time to time.
Hides the screen with mouse movement in one of the screen corners Just move your mouse pointer to one of the four screen corners (you can choose which of them will be active) and hold it there some time to activate cover.
Adjustable sensitivity zone size This allows setting dimensions of square at screen corner where mouse pointer should be placed to activate cover.
Adjustable activation time This setting determines how long the mouse pointer should stay in a corner to activate the AntiSpye and hide your desktop.
System requirements
Hard Disk Drive Space 1 MB free at least
Operating Systems (OS) supported Windows 95/98/Me/2000/XP/2003 or newer