for only $19.95!
Control underwater worlds from your desktop!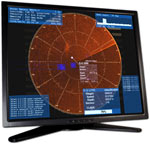 Sonar Screensaver is flexible and detailed fabulous sonar simulation software. It will turn your PC into a fabulous sonar outpost, watching for the objects at surface and underwater in some coastal zone.
The screensaver supports multiple displays bringing true sci-fi look to a PC with several displays connected to it.
With the "on-screen message" feature, this screensaver becomes not only nice computer animation, but also allows you leaving your workplace without any wonder that nobody will know where your are and when you are going to be back.
Features
Most of the screen takes a famous circular sonar CRT display with rotating beam. There you will find visual representation of underwater noises, floating object marks, contour map and orthogonal/circular scale grids.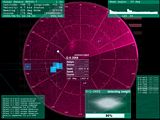 Each important floating object will be supplied with a marker – blinking rectangle, attracting the attention of an operator. From time to time, a detailed marker will appear there. It shows all known information about one of the objects. It is supposed that someone has requested this and it is displayed as a response to that request.
Lots of other supplementary information will be displayed in several windows, located at sides of the screen. These include sonar detector status information, acoustic channel bar graph, and list of detected objects, event log and more.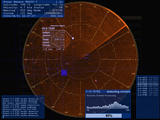 Sonar screensaver operation can be accompanied with many sounds, produced by underwater objects, including noises, whale songs and sounds from screw propellers of nearly floating vessels. In addition, sonar display can produce sounds by itself. We know, that computers does not make clicks and flicks during operation, but most of computers in movies does this, so you can allow the Sonar Screensaver to sound similarly by marking appropriate checkbox in its configuration.
Another useful feature makes Sonar Screensaver not only pretty screen saving utility. You can leave a text message when you are away from your computer. It will be shown when someone will try to close the screensaver by touching keyboard or mouse. Moreover, you can create application shortcuts for different messages to run the screensaver with a mouse click in different situations.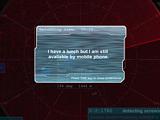 Sonar Screensaver fully supports multi-display computer configurations and wide range of hardware. It operates in OpenGL mode and does not require DirectX drivers. If you have two or more displays connected to your PC, the screensaver will allow you to configure resolution, color quality and refresh rate for each display. Additionally, you can choose to display same or different models on your displays, which of the displays must be simply blanked during operation.
The screensaver is capable to count and display average amounts of frames it produces, so-called "FPS," and current date and time. This information will be smoothly integrated into animation and will not be dissonant with it, providing you with something more useful, than virtual boats, ships, vessels, submarines and whales.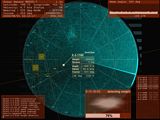 To support wide range of system configurations, Sonar Screensaver provides several settings for flexible performance control. You will be able to set desired frames-per-second parameter and overall animation complexity by traffic intensity adjustments and enabling or disabling animation elements.
In general, Sonar Screensaver has many flexible settings, configurable with configuration window, consisting of four tab pages.
The screensaver will help to decorate your PC with nice-looking "hi-tech" and "sci-fi" animation.
System requirements
Processor (CPU) Pentium-III 600 MHz minimum, Pentium-III 1000 MHz recommended
Memory (RAM) 128 MB RAM minimum, 256 MB RAM recommended
Graphics Card (SVGA) 32 MB OpenGL minimum, 64 MB OpenGL recommended
Hard Disk Drive Space 10 MB free at least
Operating Systems (OS) supported Windows 98/Me/2000/XP/2003 or newer
Discounts
50% OFF!
Write a small review or place your opinion about our product at www.download.com, notify us and get a coupon code for 50% discount!
15% OFF
Order Sonar Screensaver with one or more of our products and get 15% off the total order.

Related Information
Free software download – Archive of free downloads including screensavers.